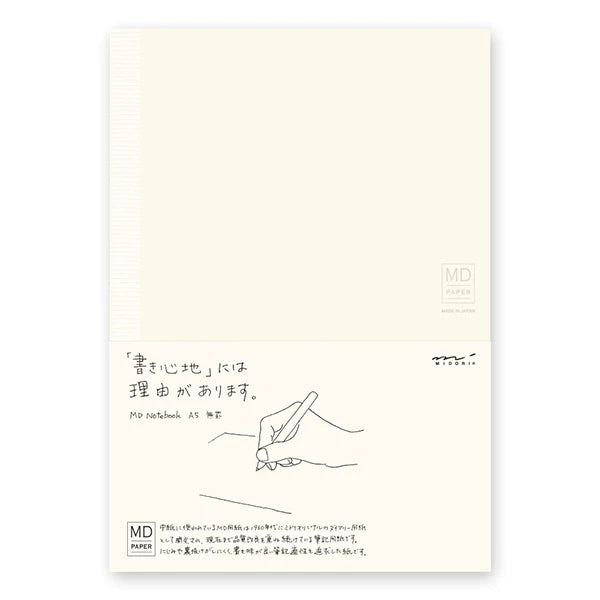 Midori MD A5 Journal
Based on Midori's award-winning 10th anniversary special edition MD notebooks, this notebook features a title and date section at the top of each page, with a free canvas for sketching below. Use it to log art projects or keep a daily sketch journal. The notebook's wine red ribbon marker matches the outlines around each section. The notebook comes with label stickers as well as 12 numbered stickers for creating monthly index tabs. With 192 pages, this notebook is perfect for use as a 6-month journal.
Made in Japan, this simple notebook was designed to create a writing experience that you will enjoy. The high-quality Midori Diary (MD) paper inside was developed in 1960 and has been continuously improved on ever since. Midori has conducted many tests using a variety of writing instruments to inspect the paper quality, including observing whether the ink feathers or bleeds, how it dries, how well the pen tips glide across the surface, how the paper feels to the touch, and so on. As a result, the paper is bleed-resistant, feather-resistant, and fountain-pen friendly, giving the user a pleasant writing experience.
The notebook has a sturdy thread binding that lies flat when open, making it easy to write. It also comes with a ribbon marker to keep your place. The cover is not a typical notebook cover. To feature the charm of the paper itself, the cloth tape used to bind the spine, usually hidden by a cover, is exposed, giving the notebook a unique look. You can even see where the ribbon marker is glued in place.