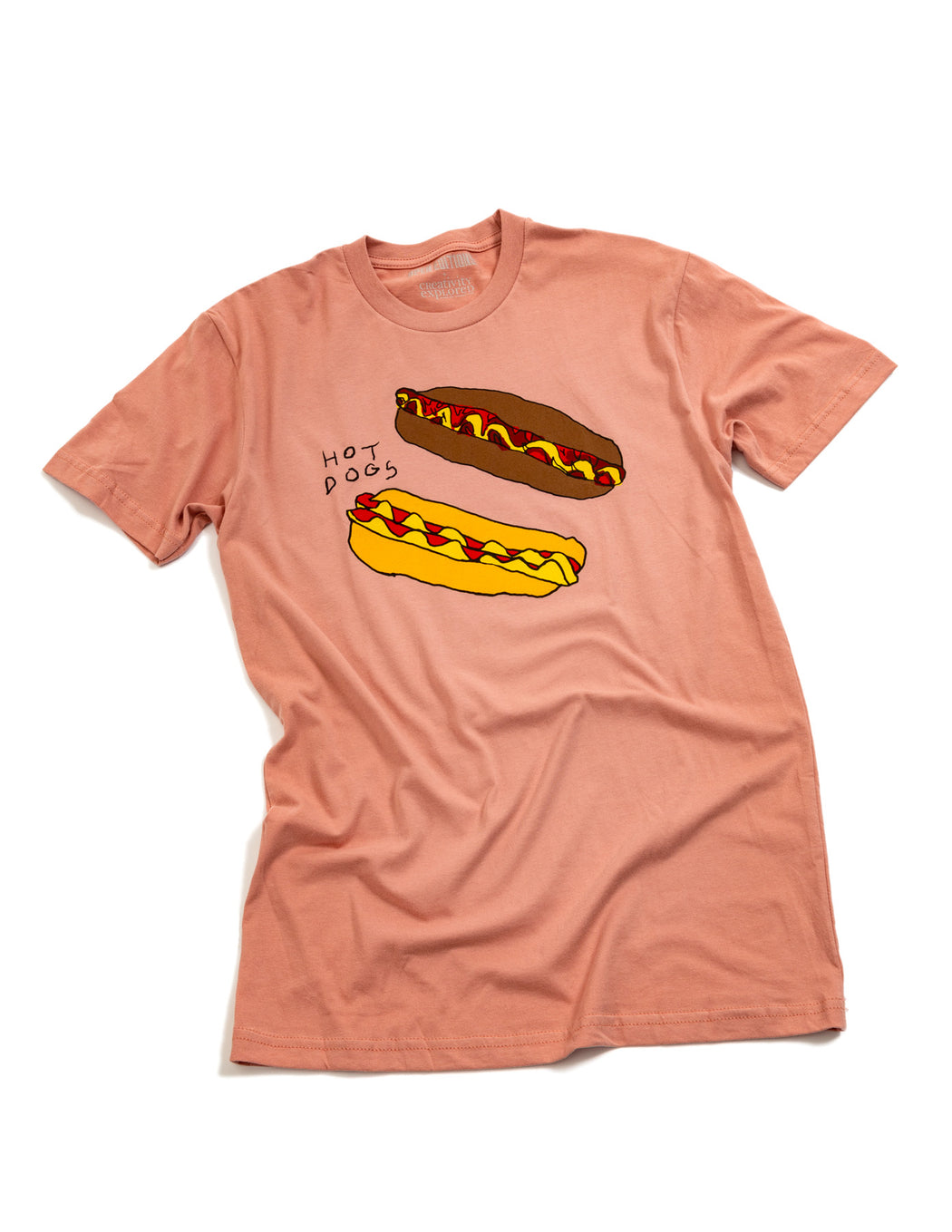 Camille Holvoet / HOT DOG tee
Hot Dog!  It's always summertime when you're wearing this tee by Camille Holvoet; perfect to sport to a baseball game or picnic.  Camille's 'Hot Dogs' are drawn from her larger work "Favorite Foods" and reproduced as a six-color screenprint.
Produced in collaboration with Creativity Explored
100% Cotton Tee, unisex sizes.
Printed in Chicago, IL
------
Camille Holvoet's (b. 1952, San Francisco, CA) work is deceptively sweet as her practice tends to draw on remembrances of life's anxieties and forbidden desires. Holvoet's process is an endless discovery, in which – through repeatedly drawing in oil pastel her sacred objects: dessert, Ferris Wheels, and crossed eyes – the pressures of the past are relieved by the joy of the creative process. When Holvoet combines text with imagery, the resonance between the two is powerful as beautiful, vibrant renderings of cakes and pies are overwritten with recollections of nightmares, fears, frustrated sexual feelings, and religious doubt.
A San Francisco native, Holvoet joined the Creativity Explored studio in 2001. Her artwork has been exhibited both nationally and internationally.
Read more about Holvoet in Priscilla Franks' Huff Post piece, "A 63-Year-Old Artist Explains How Art Can Cure Creative Hunger at Any Age," and in Alissa Greenberg's "The Art of the Bittersweet" in BrutForce.
(via creativityexplored.org) 
------
Creativity Explored is a studio-based collective in San Francisco that partners with people with developmental disabilities to celebrate and nurture the creative potential in all of us. Founded in 1983 by a psychologist and an artist, Creativity Explored has facilitated the careers of hundreds of disabled artists and serves as a model worldwide.
Creativity Explored now serves 130 artists with developmental disabilities offering art supplies, training, exhibition and sales opportunities in traditional and digital media. Creativity Explored artists have seen their work exhibited in museums, galleries, and art fairs in over 14 countries and have earned over $2 million from their art. Our life-changing programs continue to open doors of inclusion to center the personhood and creative vision of people with developmental disabilities. 
Most importantly, Creativity Explored is a source of community, empowerment and dignity.
Learn more at CreativityExplored.org or on their instagram @creativityexplored
------
See more of Camille's work HERE.