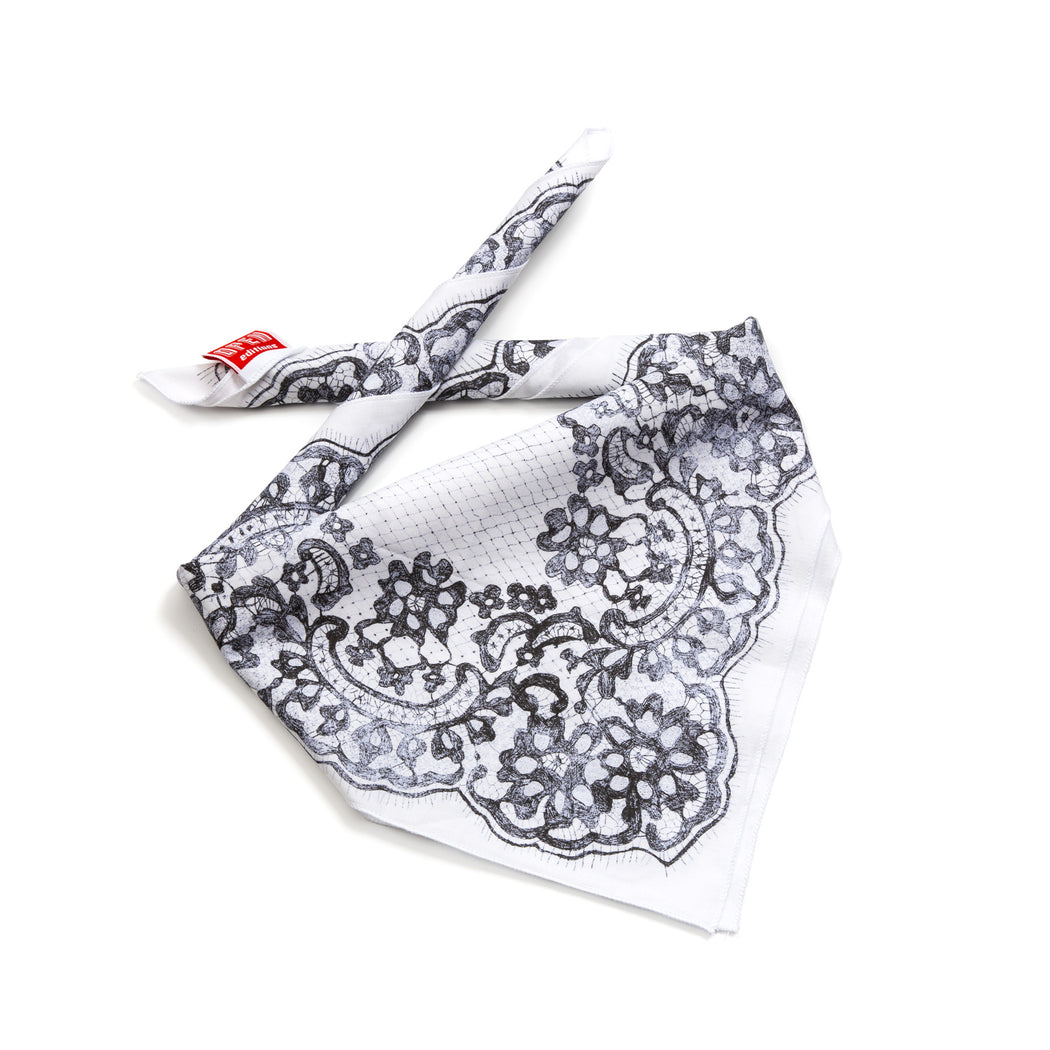 Whitney Lynn: Lace Bandana
Whitney Lynn's hand-drawn lace is inspired by the history of the ornamental fabric. Worn by all genders at its inception, throughout the centuries, lace styles evolved in response to changes in fashion, including in mourning veils for the bereaved. In a craft traditionally made by women, irregularity in the design was once considered a sign of an unskilled lacemaker, but by the Industrial Age, became an indicator that the lace was produced by a person, not a machine. Notably, Ruth Bader Ginsberg made wearing lace a radical act by unapologetically feminizing the judge's robe. Today, fashion, history and politics remain entwined, with this COVID-era face covering offering a functional artwork that acts as a form of protection. 

100% cotton, 23" x 23" made in San Francisco by Open Editions. 
 ------
Artist Whitney Lynn employs a wide range of media to reframe narratives of familiar objects, images and events. Mining cultural and political histories, Lynn reflects on subjects such as collapsed boundaries, militarized landscapes, the mechanisms of illusion and deception, and the role of images in the creation of myth. Born on Williams Air Force Base, she attended the San Francisco Conservatory of Music, received her BFA in Sculpture + Extended Media from Virginia Commonwealth University and MFA in New Genres from the San Francisco Art Institute.  Lynn is currently completing a site-specific project for the San Diego International Airport, was recently an Artist-in-Residence at the de Young Museum, San Francisco (2017), and the first National Artist-in-Residence at The Neon Museum, Las Vegas (2016). Lynn is currently showing The Siren with Catharine Clark gallery in San Francisco. 
See our other collaborations with Whitney here.