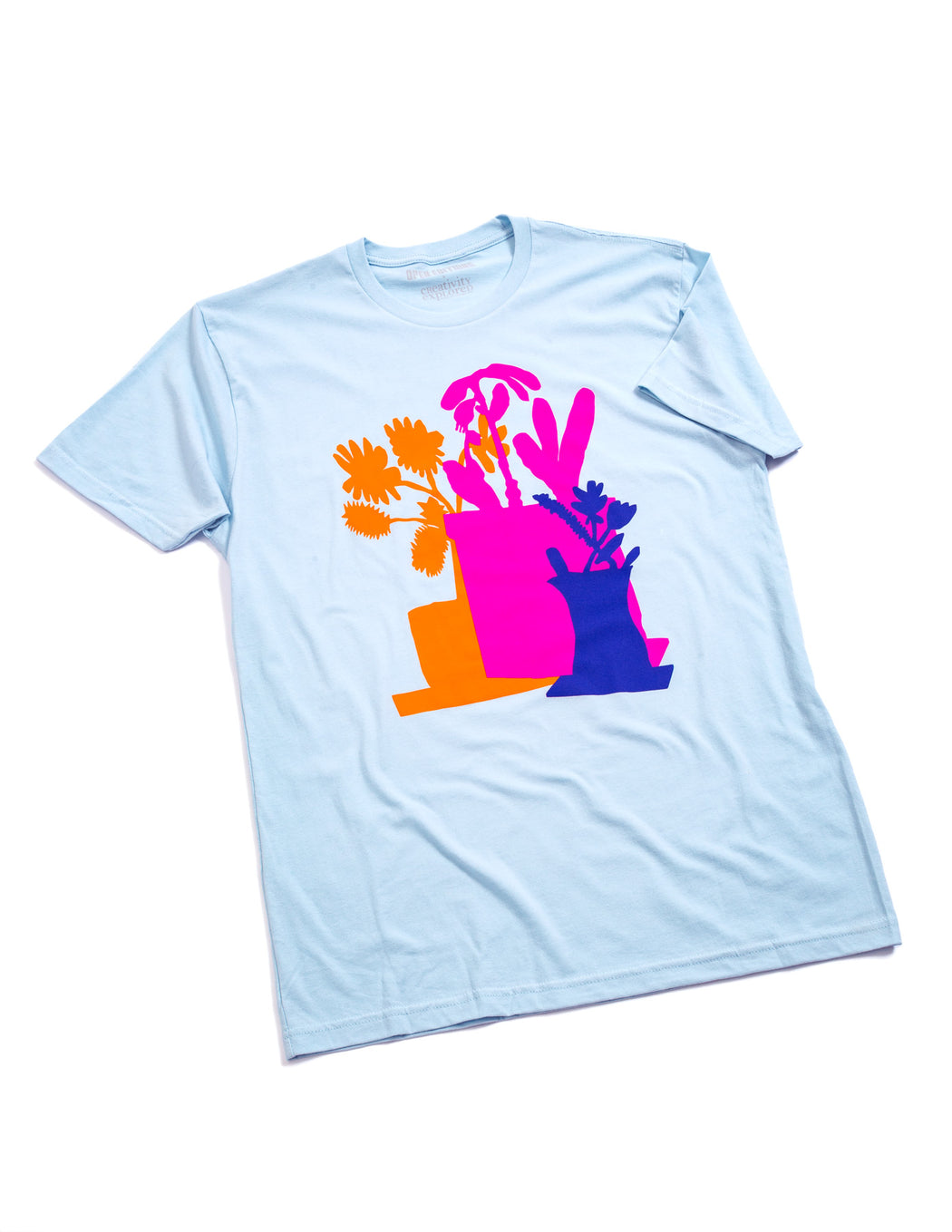 Elana Cooper / Flower Pots Tee
Elana Cooper's wonderful cut-out flower forms adorn this colorful and bright tee.  Cooper's original artworks are freestanding sculptures in cut plywood, painted in bold monochrome; we composed a collection of three potted plant designs into silhouettes to make this three-color screenprinted tee.   
Produced in collaboration with

 

Creativity Explored
100% Cotton Tee, unisex sizes.
Printed in Chicago, IL
------
Elana Cooper (b. 1973, San Francisco) is primarily known for her striking, large-scale floral silhouettes though animals are also a common subject of her work. Cooper paints in bold strokes, the background in one color and the subject in a contrasting color, giving her representational work an abstract quality. 
Cooper began working in Creativity Explored's studio in 2013 and says, "I never made art before coming here. I didn't know I had the skills for it!" In 2014 the San Francisco Girls Chorus (SFGC) selected Cooper as one of the CE artists comissioned to create cut-out animal props for the chorus' dramatic concert production of Noye's Fludde (Noah's Flood), a modern adaptation of a 15th century mystery play. 
(via creativityexplored.org) 
------
Creativity Explored is a studio-based collective in San Francisco that partners with people with developmental disabilities to celebrate and nurture the creative potential in all of us. Founded in 1983 by a psychologist and an artist, Creativity Explored has facilitated the careers of hundreds of disabled artists and serves as a model worldwide.
Creativity Explored now serves 130 artists with developmental disabilities offering art supplies, training, exhibition and sales opportunities in traditional and digital media. Creativity Explored artists have seen their work exhibited in museums, galleries, and art fairs in over 14 countries and have earned over $2 million from their art. Our life-changing programs continue to open doors of inclusion to center the personhood and creative vision of people with developmental disabilities. 
Most importantly, Creativity Explored is a source of community, empowerment and dignity.
Learn more at CreativityExplored.org or on their instagram @creativityexplored
------
See more of Elana's work HERE.