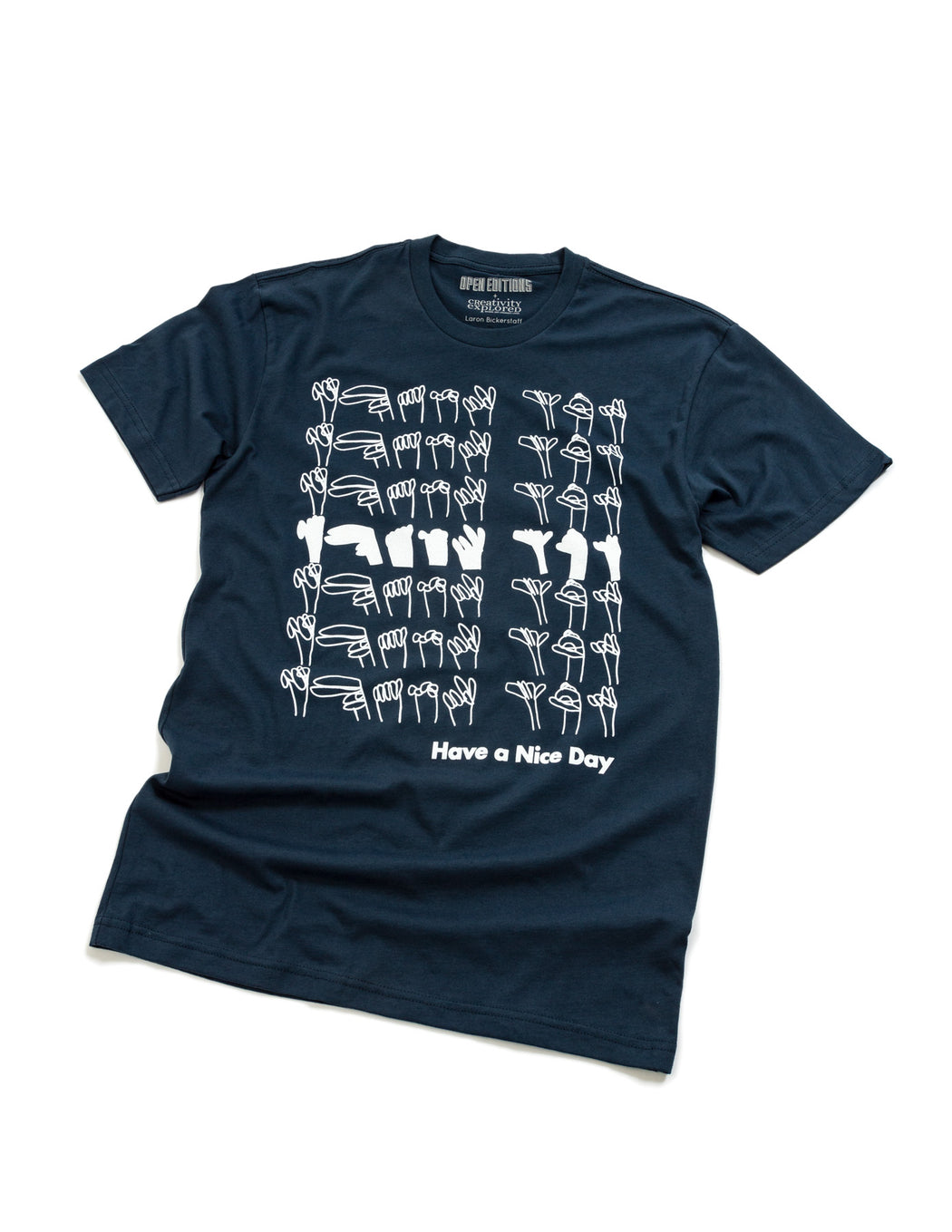 Laron Bickerstaff / ASL THANK YOU Tee
Laron Bickerstaff's ASL Hand drawings translate any text into a meaningful and visually charming message.  Here we've laid out the ASL letters to form a message of Thank Yous, referencing the design used for the ubiquitous Thank You shopping bag.  One-color screenprint, available in Red on White Tee or White on Navy Tee.
Produced in collaboration with Creativity Explored
100% Cotton Tee, unisex sizes.
Printed in Chicago, IL
------
Laron Bickerstaff (b. 1971) creates radiant portraiture and stream-of-consciousness text-based artwork. Bickerstaff communicates with American Sign Language and is deeply aware of the visual characteristics of language. In his work, he mixes his own observations with a pop-influenced love of the brand names that populate everyday life: celebrities, stores, food and drink, and institutions.
Bickerstaff joined the Creativity Explored studio in 1997
(via creativityexplored.org) 
------
Creativity Explored is a studio-based collective in San Francisco that partners with people with developmental disabilities to celebrate and nurture the creative potential in all of us. Founded in 1983 by a psychologist and an artist, Creativity Explored has facilitated the careers of hundreds of disabled artists and serves as a model worldwide.
Creativity Explored now serves 130 artists with developmental disabilities offering art supplies, training, exhibition and sales opportunities in traditional and digital media. Creativity Explored artists have seen their work exhibited in museums, galleries, and art fairs in over 14 countries and have earned over $2 million from their art. Our life-changing programs continue to open doors of inclusion to center the personhood and creative vision of people with developmental disabilities. 
Most importantly, Creativity Explored is a source of community, empowerment and dignity.
Learn more at CreativityExplored.org or on their instagram @creativityexplored
------
See more of Laron's work HERE.