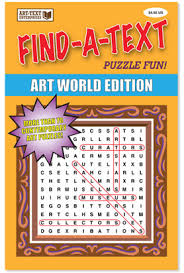 Charles Gute / Find-a-Text Puzzle Fun! Artworld Edition
For many years, Brooklyn-based Charles Gute has worked with text as a primary material both as a conceptual artist and as a freelance editor of art books.  The Find-a-Text Puzzle Fun! book accompanied a body of work by Gute that consisted of gallery canvases printed images of each of the puzzles-- this publication emulates the look and feel of mass-market puzzle books and effectively functions as a catalogue raisonné for this body of work. 
Unlike popular word search puzzles that commonly contain hidden words grouped around pop cultural themes such as television or sports, these austere text grids contain names and references that are grounded firmly within the realm of high art. 
96-page paperback book
Originally published in conjunction with Gute's 2007 exhibition at Jason Rulnick Gallery
------
Charles Gute is a New York–based artist and editor. After studying classical music for many years, Gute shifted his focus to visual art, receiving an MFA in New Genres from the San Francisco Art Institute. His work has been exhibited at numerous venues internationally, including the Berkeley Art Museum, the ZKM Center for Art and Media, and the Hammer Museum. Gute has created specially commissioned projects for print publications such as Frieze, Flash Art, ArtLies, Fillip, and Cartier Art.  He has been awarded fellowships from the Rockefeller Foundation, the San Francisco Foundation, and The MacDowell Colony.  His work has been written about in publications such as ARTnews, Artforum, The San Francisco Examiner, Art+Auction, and The Art Newspaper. Recent solo shows include "Scripts for Art" at Walden Affairs, The Hague; and "Recent Works on Paper" at Catharine Clark Gallery's satellite space in New York. In 2016 he will be included in Manifesta 11, to be held in Zurich.  Gute is represented by Catharine Clark Gallery in San Francisco.
------
See more of Charles' work HERE.
Open-Editions' collaborations with Charles Gute include the Artworld Quality Ambassador Pin and Cultural Practitioner Tee.