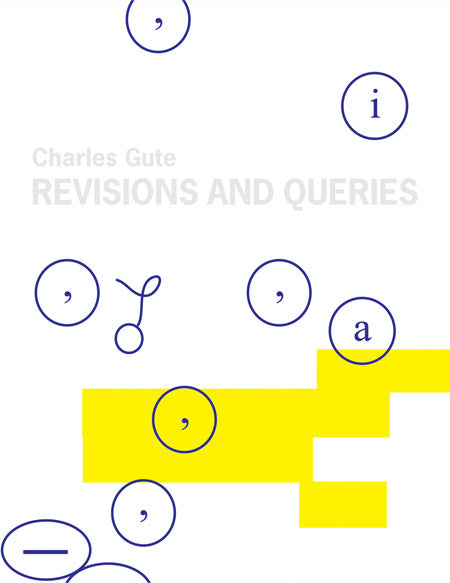 Charles Gute / Revisions and Queries
For many years, Brooklyn-based Charles Gute has worked with text as a primary material both as a conceptual artist and as a freelance editor of art books. These separate activities--studio practice and day job--unexpectedly overlapped when Gute hit upon the idea of taking corrected publisher's proofs and stripping out all content except for his own revisions, queries and proofreader's notations, reframing the results as line drawings. Displacing the editorial process with a purely visual agenda, these abstract constellations of marks resonate with their original subject matter in unpredictable ways, while playfully engaging the textual legacy of artists like Joseph Kosuth, Lawrence Weiner and Allen Ruppersberg. Featuring more than 50 drawings, Revisions and Queries is an art book about art books; it offers an amusing glimpse behind the scenes of both the art world and art book publishing.
Published by the Ice Plant 
96 pages

9 x 0.5 x 11.5 inches
------
Charles Gute is a New York–based artist and editor. After studying classical music for many years, Gute shifted his focus to visual art, receiving an MFA in New Genres from the San Francisco Art Institute. His work has been exhibited at numerous venues internationally, including the Berkeley Art Museum, the ZKM Center for Art and Media, and the Hammer Museum. Gute has created specially commissioned projects for print publications such as Frieze, Flash Art, ArtLies, Fillip, and Cartier Art.  He has been awarded fellowships from the Rockefeller Foundation, the San Francisco Foundation, and The MacDowell Colony.  His work has been written about in publications such as ARTnews, Artforum, The San Francisco Examiner, Art+Auction, and The Art Newspaper. Recent solo shows include "Scripts for Art" at Walden Affairs, The Hague; and "Recent Works on Paper" at Catharine Clark Gallery's satellite space in New York. In 2016 he will be included in Manifesta 11, to be held in Zurich.  Gute is represented by Catharine Clark Gallery in San Francisco.
------
See more of Charles' work HERE.
------
Open-Editions collaborations with Charles Gute also include the Work Shirt, Quality Ambassador Pin and Fortunes for Artists.