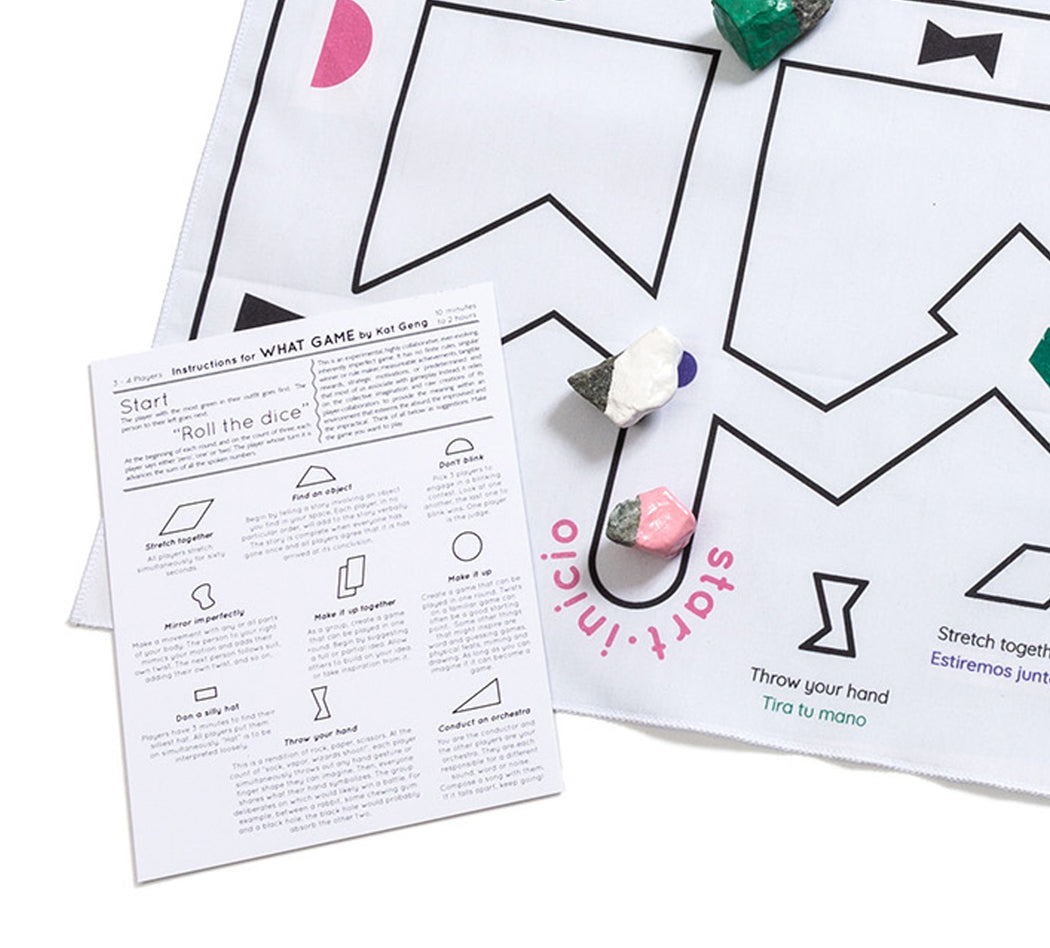 Kat Geng-Caraballo // What Game (bandana)
This is an experimental, highly collaborative, ever-evolving, inherently imperfect game.
Esto es un juego experimental, colaborativo, en constante cambio e inherentemente imperfecto.
100% cotton, 23" x 23" with four player pieces. Made in San Francisco by Open Editions.  
Sculptor and Latinx visual artist Kat Geng-Caraballo (b. Bogotá, Colombia, based in Brooklyn, NY) embraces well worn and brand new materials to reimagine objects with renewed purpose. With equal esteem for the serious and the playful, Geng-Caraballo explores issues surrounding transnational identity, language, loss, connection, and family through a blend of mixed-media assemblage and puppet making. Pairing objects sourced from Bogotá, Brooklyn, the Bay Area, and the Berkshires with language appropriated from comics, Geng-Caraballo's most recent solo exhibition, "Igual Que Yo / Same As Me," opened at Oakland's NIAD Art Center in 2019. After earning a B.A. in Art History from Bard College, she trained in art conservation at the Williamstown Art Conservation Center at the Clark Art Institute in Massachusetts. Geng-Caraballo is a 2021 recipient of The Bronx Museum of the Arts (AIM) Emerging Artist Fellowship and a 2021 Anderson Ranch Arts Center Fellowship. She is currently sewing, outfitting and filming a puppet cast, her latest exploration in visual storytelling.