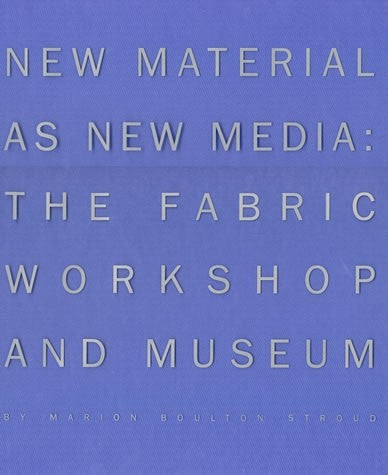 New Materials as New Media / The Fabric Workshop and Museum
A rich showcase of the use of experimental new materials in contemporary art, based on work produced over the past twenty-five years at The Fabric Workshop and Museum in Philadelphia.
From constructivist textile and clothing designs by Aleksandr Rodchenko and Varvara Stepanova to the soft sculptures of Claes Oldenburg and Louise Bourgeois, twentieth century artists have looked to fabric and other materials to push artistic production beyond the image and the object. Over the past twenty-five years The Fabric Workshop and Museum, an experimental arts laboratory in Philadelphia, has evolved into an influential contemporary art museum with a significant permanent collection, collaborating with artists to redefine the boundaries of fabric and other innovative materials including rubber, industrial felt, fiberglass, horse hair, hog intestine, and plastic as artistic media. This book, which accompanies a twenty-five-year retrospective exhibition from the collection, highlights more than fifty artists' projects.
The artists, designers, and architects include Marina Abramovic, Doug Aitken, Louise Bourgeois, Chris Burden, Felix Gonzalez-Torres, Ann Hamilton, Howard Hodgkin, Anish Kapoor, Roy Lichtenstein, Glenn Ligon, Robert Morris, Louise Nevelson, Faith Ringgold, Yinka Shonibare, Gary Simmons, Robert Venturi and Denise Scott Brown, Carrie Mae Weems, Rachel Whiteread, and Yukinori Yanagi.
The essays included in New Material as New Media range from a personal musing on specific art objects to a historical investigation of cloth's use and meaning. The book has an introduction by Mark Rosenthal, interviews by Ruth Fine and Thelma Golden, and essays by Francesco Bonami, Arthur Danto, Larry Rinder, and Robert Storr.
Please note: This book was published in three different colors—green, pink and purple. Customers are encouraged to request a color, but we cannot guarantee the color the customer will receive if we are out of that color.