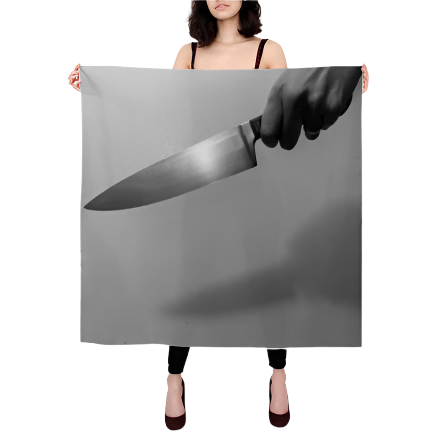 Whitney Lynn / Sirens Scarves
Artist Whitney Lynn explores the theme of the Siren: the female archetype of the temptress or femme fatale. Lynn complicates this stock character constructed to mark societal boundaries and to embody a gendered threat: Anne Boleyn's six gloved fingers, a snake bite to the nipple referencing Cleopatra's apocryphal suicide, Bathsheba in her bathtub, a fig leaf symbolizing Eve, a hand clutching Medea's knife, Jezebel's makeup brushes, and Delilah's flowing hair. In Greek mythology, the beautiful songs of  sirens lured sailors to a rocky death. Unlike collectors and lucky fisherman, those sailors didn't make it home with a treasured prize.
36" x 36" silk, made in San Francisco by Open Editions
------
Whitney Lynn employs a wide range of media to reframe narratives of familiar objects, images and events. Mining cultural and political histories, Lynn reflects on subjects such as collapsed boundaries, militarized landscapes, the mechanisms of illusion and deception, and the role of images in the creation of myth. Born on Williams Air Force Base, she attended the San Francisco Conservatory of Music, received her BFA in Sculpture + Extended Media from Virginia Commonwealth University and MFA in New Genres from the San Francisco Art Institute.  Lynn is currently completing a site-specific project for the San Diego International Airport, was recently an Artist-in-Residence at the de Young Museum, San Francisco (2017), and the first National Artist-in-Residence at The Neon Museum, Las Vegas (2016).
------
See more of Whitney's work HERE.