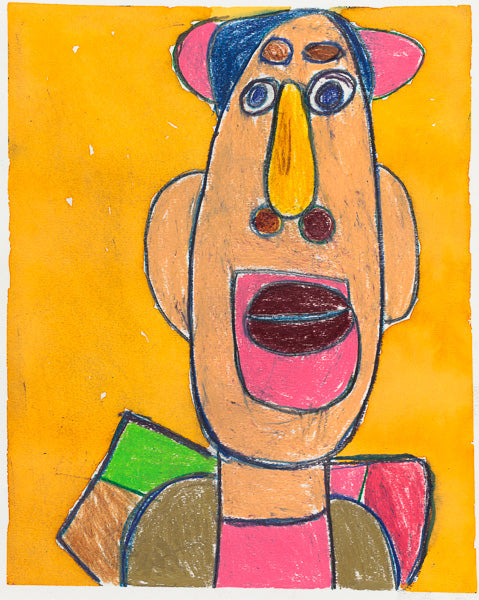 Vincent Jackson // Untitled (Portrait on Yellow Background), 2017
Vincent Jackson
b. 1961, San Francisco ∙ CE artist since 1984
Vincent Jackson is one of the most prolific and longest practicing artists at Creativity Explored. Jackson is known for his large-scale figurative oil pastels. His thick, defining lines break the human form into geometric shapes filled with a heavy impasto of layered colors arranged with Jackson's masterful sense of harmony. The resulting mask-like works can be viewed as a contemporary renewal of traditional African and Oceanic folk art imagery. "My faces are my way of telling a story rather than writing," he remarks.
Jackson's work was chosen to adorn the third series of artisanal chocolates from Recchiuti Confections. Additionally, CB2 selected Jackson's work for a number of limited-edition products including a tote, rug, pillow and ceramic vase.
VIDA produced a curated collection of colorful masks, scarves, totes, clutches and glass trays using Jackson's abstract oil pastel drawings.
Jackson's work has been exhibited internationally.
Watercolor and Colored Pencil on Paper 12.5 x 10 inches