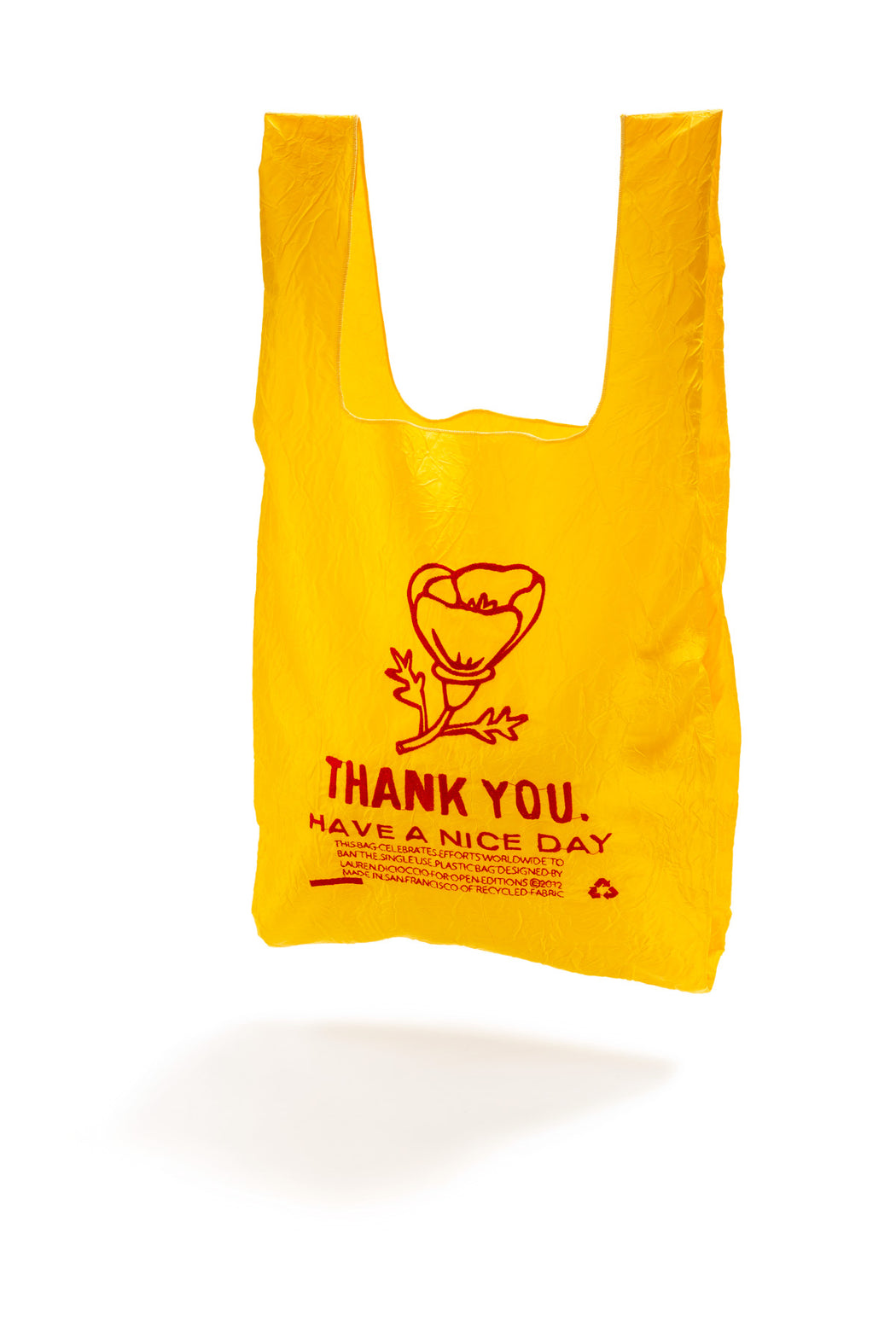 POPPY / Red on Yellow Fabric Tote
What fun is a reusable bag if you don't want to show it off?
The YELLOW + RED POPPY TOTE is machine-embroidered on custom fabric made from 100% recycled material. The totes are sturdy and washable, intended for daily use.
The perfect THANK YOU gift, each tote in this series replaces the ubiquitous single-use plastic bags issued by convenience stores with a friendly reminder to reuse and recycle. 
Designed to commemorate San Francisco's historic legislation enacting the first plastic bag ban in the USA in 2007, this series now celebrates worldwide efforts to continue the 'ban on the bag'.
Designed by artist Lauren DiCioccio in 2012
Made in San Francisco by Open-Editions
Machine-embroidered 100% recycled fabric, certified to meet the Global Recycling Standard 
TOTE measures 11.5" x 22" x 4"
MINI measures 8" x 16" x2" This is a mini version of our classic tote! Suitable as a clutch bag, or reusable lunch bag, cosmetics Dopp kit, etc...
About the Artist: Lauren DiCioccio lives in San Francisco and works primarily in the media of soft sculpture and embroidery.  Her work explores the expressive qualities of cloth and thread; she uses these materials to make objects about empathy, nostalgia, melancholy and joy.  Her work has been exhibited at the Yerba Buena Center for the Arts, the Laguna Art Museum, the Bellevue Arts Museum and she is represented by Jack Fischer Gallery in San Francisco, CA. Lauren is a co-founder of Open-Editions.  Her other products include the Correspondence Kit. See more of Lauren's work HERE